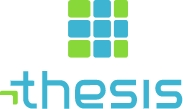 A famous quote from PM guru Martin Eriksson says Product Management is what happens "at the intersection between business, technology, and user experience." Product Managers at Thesis combine those functions and more to build value for our clients. We define what success looks like for each product in the Thesis portfolio, outline the product strategy, and illustrate how it will impact our clients and the goals of their institutions.
Our role at Thesis is a cross-functional one involving communication with organizational stakeholders, including C-level executives and marketing and sales departments. On any given day, you could find yourself writing a business case for a new acquisition or business partner, working on launch material, conducting a design review with internal and external stakeholders, meeting with Product Owners and teams to elaborate a feature, posting to social media, writing website copy alongside our marketing team, helping out a support representative with a challenging client issue, refining the roadmap for your product area(s), mentoring another Product Manager or Product Owner, going on a client visit, or preparing a presentation for leadership and/or investors.
Thesis Product Management follows the Pragmatic Framework to ensure that our organization is familiar with and supportive of all aspects of Product Management. We love learning, having fun, and building fantastic client experiences.